Yourban 300, Performance and Stability for Everyday Commuting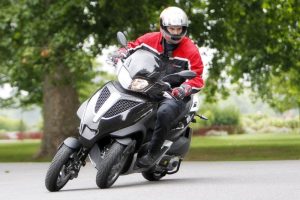 The Yourban 300 is among the premier three-wheelers in the market. It has a powerful and efficient 300cc engine with EFI for fuel efficiency. With three wheels, it is stable, agile and easy to handle. This scooter is suitable for an everyday rider and especially, in high traffic areas.
Key Specifications
Engine: 300cc. 4-stroke engine with EFI
Power: 22.8 Hp @ 7750 Rpm
Starting: Electric
Transmission: CVT with Torque server
Fuel consumption:
11 litres fuel tank
Like mentioned above, the Yourban 300 is a three-wheeler. There are two wheels in the front and a larger one at the back. To say the least, this scooter has a sleek and stylish design courtesy of its wraparound body and glossy paint. For rider and passenger comfort, Piaggio equipped this scooter with a spacious and comfortable seat and a pillion grab rail.
In terms of the engine's performance, the Yourban 300 has a powerful 300cc four-stroke petrol combustion engine. Besides, Piaggio used their native EFI technology that makes this engine very fuel efficient and most importantly, eco-friendly, courtesy of its low emissions. In addition to this, Piaggio equipped the Yourban 300 with an automatic CVT transmission that is very easy to use, especially for learners.
On the wide dashboard, there is an analogue speedometer, fuel gauge, temperature gauge, tachometer and a trip computer. Just like the Beverly 350, this scooter has a mounted security loop and an electric immobiliser for its security. This motorcycle is Euro 3 compliant and LAMS Certified. It has a lockable parking brake and doesn't necessarily need a stand when parked on the road.
What We Liked – The three wheel design makes the Yourban 300 a strong and sturdy means of economical transport. It is very stable, agile and easy-to-handle making it an ideal scooter for rider and passenger commuting.